You can choose one of the following topics for the video meeting with the CTO:

emRadiant: Ordering and Customization of Computer Vision Systems


MR NIB™: Information and Ordering of Portable MRI Systems


Elegant NMR®: Information and Ordering of Benchtop DNP NMR Spectrometers


SAR-SAAR: Information and Ordering of Georadar Systems


HugeMDB: Information about the World's Largest Database of 3D Chemical Structures


OEM Development of Scientific Equipment and Software.



To make your selection, please follow

the Calendly link

.

Sie können eines der folgenden Themen für das Videotreffen mit dem Technischen Geschäftsführer auswählen:

emRadiant: Bestellung und Anpassung von Computersichtsystemen


MR NIB™: Informationen und Bestellung von tragbare MRT


Elegant NMR®: Informationen und Bestellung von Benchtop DNP NMR-Spektrometern


SAR-SAAR: Informationen und Bestellung von Georadarsystemen


HugeMDB: Informationen zur weltweit größten Datenbank für 3D-Chemiestrukturen


OEM-Entwicklung wissenschaftlicher Geräte und Software.



Um Ihre Auswahl zu treffen, folgen Sie bitte diesem

Calendly-Link

.
SAR-SAAR
In the modern world, there is a significant demand for geophysical methods of research in various fields such as georadiolocation, seismic exploration, industrial construction, and underwater localization. To obtain valuable information, specialized devices with diverse technical characteristics, such as our state-of-the-art Sar-Saar Georadars, are required.
Our company helps you expand the application of geophysical methods by utilizing advanced Sar-Saar Georadar equipment. This high-tech device is capable of detecting profiles of underground layers at depths of up to one kilometer. It finds application in numerous industrial and scientific domains, including the exploration of mineral deposits, archaeology, paleontology, geological investigations of deep Earth layers, and a variety of geodetic tasks. User-friendly operation and rapid processing of measurement data ensure swift and reliable solutions to your tasks.
The primary advantage of our georadar technology lies in the use of phased arrays in both the transmitter and receiver. The transmitter emits electromagnetic radiation into the research area, while the receiver selectively captures significant signals from echoes originating from subterranean layers. With a transmitter featuring 132 channels, we achieve emission of powerful 50 Joule pulses with angular accuracy of up to 6 degrees, enabling users to scan geological strata located approximately a kilometer beneath the Earth's surface.
Our radar systems come in a range of configurations for subsurface probing, including systems with separate and integrated receiving and transmitting antennas. Systems with separate antennas are designed for deep scanning and can achieve high precision even at depths of several hundred meters.
Compact and user-friendly, systems with integrated antennas are intended for geological research at shallow depths, up to 5 meters. However, operating at substantially higher frequencies, they provide significantly greater scanning accuracy, on the order of a few centimeters.
All our georadars are equipped with precise spatial positioning using emRadiant. This allows you to tie scan results not only to GPS coordinates but also to the spatial layout of the terrain and the spatial scans of the surroundings. This is particularly crucial for systems with integrated antennas, which can be used in areas where GPS signals are unavailable or offer unacceptably poor accuracy, such as when scanning in mines, caves, underground structures, inside buildings, or during closed geological excavations.
Both systems are equipped with software that, by solving the inverse problem of Maxwell's equations, provides the spatial structure of what has been scanned.
Moreover, our radar algorithms "advise" the operator on where additional scanning may be needed to obtain the most accurate results.
This allows you to use our georadars without the need for specially trained operators, and we always supply our equipment with fully pre-installed software and offer 8 years of free software updates for our georadar systems.
In der modernen Welt gibt es eine erhebliche Nachfrage nach geophysikalischen Forschungsmethoden in verschiedenen Bereichen wie Georadiolokation, seismische Exploration, industrieller Bau und Unterwasserortung. Um wertvolle Informationen zu erhalten, werden spezialisierte Geräte mit vielfältigen technischen Eigenschaften benötigt, wie unsere hochmodernen Sar-Saar Georadars.
Unsere Firma hilft Ihnen, die Anwendung geophysikalischer Methoden durch den Einsatz modernster Sar-Saar Georadar-Geräte zu erweitern. Dieses High-Tech-Gerät ist in der Lage, Profile unterirdischer Schichten in Tiefen von bis zu einem Kilometer zu erkennen. Es findet Anwendung in zahlreichen industriellen und wissenschaftlichen Bereichen, einschließlich der Erkundung von Bodenschätzen, Archäologie, Paläontologie, geologischen Untersuchungen von tiefen Erdschichten und einer Vielzahl von geodätischen Aufgaben. Die benutzerfreundliche Bedienung und die schnelle Verarbeitung von Messdaten gewährleisten schnelle und zuverlässige Lösungen für Ihre Aufgaben.
Der Hauptvorteil unserer Georadartechnologie liegt in der Verwendung von Phasengittern sowohl im Sender als auch im Empfänger. Der Sender sendet elektromagnetische Strahlung in den Forschungsbereich aus, während der Empfänger selektiv bedeutende Signale von Echos erfasst, die aus unterirdischen Schichten stammen. Mit einem Sender, der 132 Kanäle aufweist, erreichen wir die Aussendung von leistungsstarken 50-Joule-Impulsen mit einer Winkelgenauigkeit von bis zu 6 Grad, was den Benutzern ermöglicht, geologische Schichten zu scannen, die sich in etwa einem Kilometer Tiefe unter der Erdoberfläche befinden.
Unsere Radarsysteme sind in verschiedenen Konfigurationen für die Untergrunduntersuchung erhältlich, einschließlich Systemen mit separaten und integrierten Empfangs- und Sendenantennen. Systeme mit separaten Antennen sind für tiefe Scans konzipiert und können auch in Tiefen von mehreren hundert Metern eine hohe Präzision erreichen.
Kompakte und benutzerfreundliche Systeme mit integrierten Antennen sind für geologische Untersuchungen in geringen Tiefen von bis zu 5 Metern vorgesehen. Sie bieten jedoch aufgrund ihrer Arbeit bei wesentlich höheren Frequenzen eine deutlich größere Scangenauigkeit im Bereich von wenigen Zentimetern.
Alle unsere Georadarsysteme sind mit einer präzisen räumlichen Positionierung mittels emRadiant ausgestattet. Dies ermöglicht es Ihnen, Scanergebnisse nicht nur an GPS-Koordinaten, sondern auch an die räumliche Anordnung des Geländes und die räumlichen Scans der Umgebung zu binden. Dies ist besonders wichtig für Systeme mit integrierten Antennen, die in Gebieten eingesetzt werden können, in denen GPS-Signale nicht verfügbar sind oder eine unzureichende Genauigkeit bieten, beispielsweise beim Scannen in Minen, Höhlen, unterirdischen Strukturen, Gebäuden oder bei geschlossenen geologischen Ausgrabungen.
Beide Systeme sind mit Software ausgestattet, die durch Lösung des inversen Problems der Maxwell-Gleichungen die räumliche Struktur dessen bietet, was gescannt wurde.
Darüber hinaus "beraten" die Algorithmen unserer Radargeräte den Bediener, wo zusätzliche Scans erforderlich sein könnten, um die genauesten Ergebnisse zu erzielen.
Dies ermöglicht Ihnen die Verwendung unserer Georadargeräte ohne die Notwendigkeit speziell geschulter Bediener, und wir liefern unser Equipment immer mit vollständig vorinstallierter Software und bieten 8 Jahre kostenlose Software-Updates für unsere Georadarsysteme an.
About Us
For many years, our company has been deeply involved in research and development efforts focused on pioneering algorithms for solving intricate challenges related to the propagation of electromagnetic waves. Since the early 1990s, we have been delivering top-tier software solutions to industry giants such as ExxonMobil and Western Atlas.

In 2008, we embarked on a journey into the realm of manufacturing our own ground-penetrating radar systems. The maiden radar system, meticulously conceived and crafted within our own facilities, was unveiled at the Lecce Ground-Penetrating Radar Exhibition in 2010 [1]. Since then, we have consistently supplied our cutting-edge radar technology to companies engaged in geological explorations.

A recent breakthrough in our emRadiant project, dedicated to the development of machine vision and precise positioning systems, has injected fresh vitality into our radar lineup. This machine vision system has significantly enhanced the accuracy of georadar positioning, allowing us to engineer georadars suitable for shallow depths (up to 5 meters). These systems feature integrated antennas and provide a three-dimensional terrain map alongside geodetic scans.

Our company takes immense pride in its contributions to the realms of science and innovation. We regularly publish research articles and participate in exhibitions, showcasing our georadar technology and sharing our achievements. For instance:
Über uns
Unsere Firma ist seit vielen Jahren intensiv in Forschungs- und Entwicklungsprojekten tätig, die sich auf wegweisende Algorithmen zur Lösung komplexer Aufgaben im Zusammenhang mit der Ausbreitung von elektromagnetischen Wellen konzentrieren. Seit den frühen 1990er Jahren liefern wir erstklassige Softwarelösungen an Branchengrößen wie ExxonMobil und Western Atlas.

Im Jahr 2008 begaben wir uns auf eine Reise in die Welt der Herstellung eigener Bodenradarsysteme. Das erste Radar, das akribisch in unseren eigenen Einrichtungen konzipiert und gefertigt wurde, wurde auf der Ground-Penetrating Radar Exhibition in Lecce im Jahr 2010 vorgestellt. Seitdem liefern wir kontinuierlich unsere modernste Radartechnologie an Unternehmen, die sich mit geologischen Erkundungen beschäftigen.

Ein kürzlich erfolgter Durchbruch in unserem emRadiant-Projekt, das sich der Entwicklung von Maschinenvision- und präzisen Positionierungssystemen widmet, hat unserer Radar-Produktpalette frische Vitalität verliehen. Dieses Maschinen-Vision-System hat die Genauigkeit der Georadarpunktlokalisierung erheblich erhöht und ermöglicht es uns, Georadare für geringe Tiefen (bis zu 5 Metern) zu entwickeln. Diese Systeme verfügen über integrierte Antennen und liefern eine dreidimensionale Geländekarte neben geodätischen Scans.

Unsere Firma ist äußerst stolz auf ihre Beiträge in den Bereichen Wissenschaft und Innovation. Wir veröffentlichen regelmäßig Forschungsartikel und nehmen an Ausstellungen teil, auf denen wir unsere Georadartechnologie präsentieren und unsere Erfolge teilen. Zum Beispiel:

[1]

GPR 2010 in Lecce, Italy at 21-26 June 2010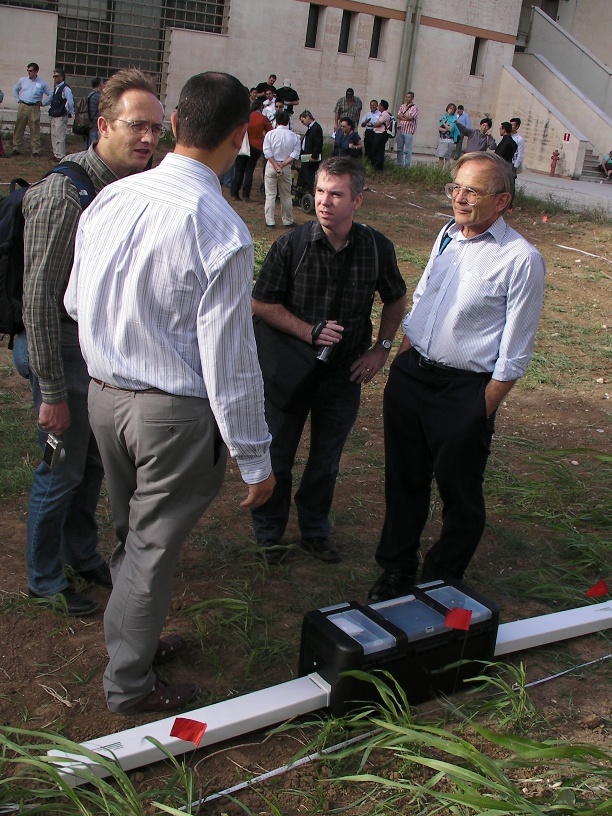 [2]
EUSAR 2010 in Aachen, Germany at 8-10 June 2010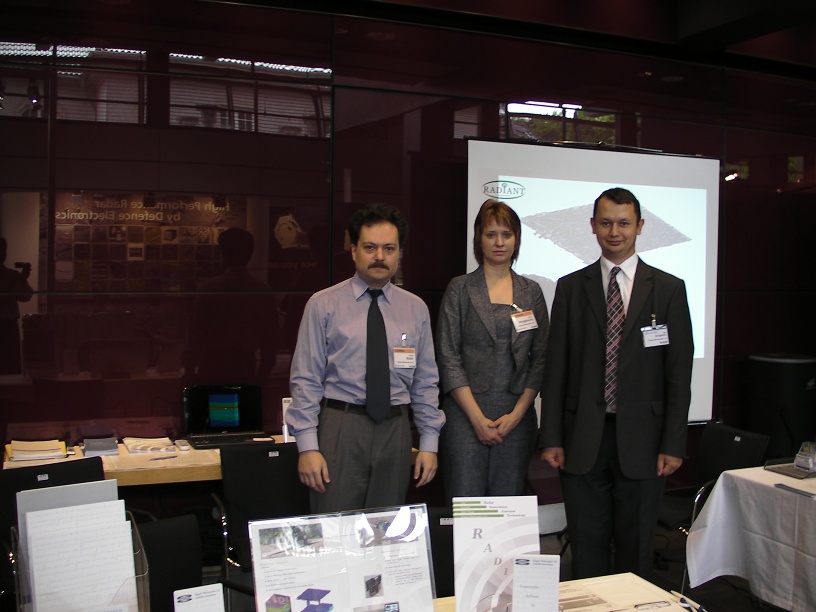 [3] IWAGPR Workshop at Aachen 22-24 June 2011
I. Ibragimov, E. Ibragimova. High performance ground penetrating radar with up to 1 KM range on coal-mining area. IWAGPR, 1-6, 2011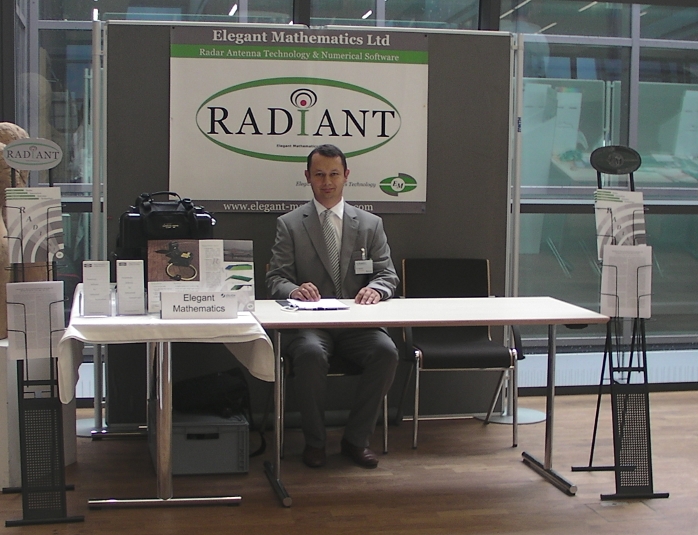 [4] Radar Symposium in Leipzig 7-9 September 2011
I. Ibragimov, E. Ibragimova. High performance ground penetrating radar with up to 1 Km Range.
IRS
, 110-115, 2011.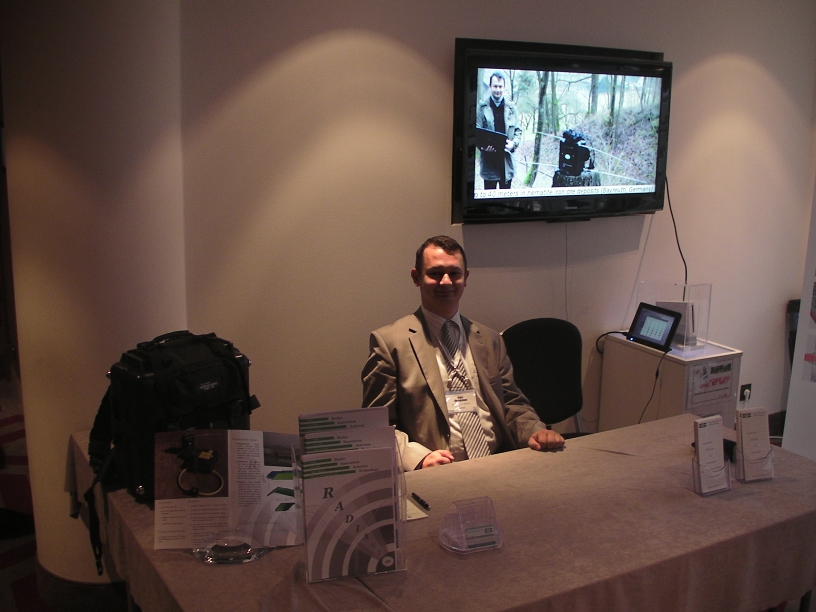 [5] 73. Jahrestagung der Deutschen Geophysikalischen Gesellschaft e.V., Leipzig, 04. - 07. März 2013.
I.Ibragimov E. Ibragimova. New Phased Array Transmitter for Deep Earth Penetration. Talk and Exhibition.
Our accomplishments and innovations continue to propel the industry forward, and we are delighted to share them with our partners and clients.
Unsere Errungenschaften und Innovationen treiben die Branche weiter voran, und wir freuen uns, sie mit unseren Partnern und Kunden zu teilen.
Contact Us Today
Kontaktieren Sie uns heute
Our technical support and information office is always available for you.
Unser technischer Support und Informationsbüro ist jederzeit für Sie erreichbar.
We are committed to providing the best possible solutions for our customers.
Wir sind bestrebt, unseren Kunden die bestmöglichen Lösungen anzubieten.
To place orders, please schedule a video chat with us on
Calendly
.
Alternatively, feel free to reach out to us via our corporate email address. We guarantee a response within 24 hours and may request additional information if needed.
Um Bestellungen aufzugeben, vereinbaren Sie bitte einen Video-Chat mit uns auf
Calendly
.
Alternativ können Sie sich gerne über unsere Unternehmens-E-Mail-Adresse an uns wenden. Wir garantieren eine Antwort innerhalb von 24 Stunden und können bei Bedarf weitere Informationen anfordern.
Elegant Mathematics LLC
82834, WY, USA
Tel:
+1 (631) 490 - 0521
Email:
info at elegant - mathematics dot com
Elegant Mathematics Ltd
Hanauer Muehle 2,
66564, Ottweiler-Fuerth,
Saarland. Germany
Tel:
+49 (6858) 79 79 858
Email:
info at elegant - math dot de
Legal registration numbers:
USA: Cheyenne 746213
UK: Cardiff 05975337
DE: HRB 16570
Rechtliche Registrierungsnummern:
USA: Cheyenne 746213
UK: Cardiff 05975337
DE: HRB 16570
Active and registered since 23 Oct 2006
German tax payer's account number 030/146/00565
EU VAT account number DE 257663693
Aktiv und registriert seit dem 23. Oktober 2006
Deutsche Steuerzahlerkontonummer 030/146/00565
EU-Umsatzsteuerkontonummer DE 257663693
Elegant Mathematics technologies are protected by a plurality of patents and pending patent applications!
Die Technologien von Elegant Mathematics sind durch eine Vielzahl von Patenten und anhängigen Patentanmeldungen geschützt!
Disclaimer: By providing links to other sites, Elegant Mathematics Ltd, and Elegant Mathematics LLC do not guarantee, approve, or endorse the information or products available at those sites, nor does a link indicate any association with or endorsement by the linked site of mrnib.com, mr-nib.com, mrnib.de or mr-nib.de.
Haftungsausschluss: Durch die Bereitstellung von Links zu anderen Websites garantieren, genehmigen oder unterstützen Elegant Mathematics Ltd und Elegant Mathematics LLC nicht die Informationen oder Produkte, die auf diesen Websites verfügbar sind. Ein Link bedeutet auch keine Verbindung oder Billigung durch die verlinkte Website von mrnib.com, mr-nib.com, mrnib.de oder mr-nib.de.
Our web site do not use cookies.
Unsere Website verwendet keine Cookies.
© Copyright Elegant Mathematics LLC & Ltd 2006-2023. All rights reserved. Page last updated: Nov 2023
© Urheberrecht Elegant Mathematics LLC & Ltd 2006-2023. Alle Rechte vorbehalten. Letzte Aktualisierung: Nov 2023
Tous droits réservés. © Elegant Mathematics LLC & Ltd 2006-2023. Dernière mise à jour de la page : octobre 2023.